PLMA'S 2023 PRIVATE LABEL TRADE SHOW NOV. 12-14 • CHICAGO
Presented by the Private Label Manufacturers Association

Store Brands are Expanding Into New Categories, New Chains and New Channels
What They're Saying About the Show
"The PLMA show is our innovation
pipeline and we have found so many new items and vendors there." – Retailer
"Whether you're looking for new suppliers, partners, or customers, the PLMA show is an ideal place to find them." – Exhibitor
"… a great opportunity for us to identify new suppliers that have capacity and are able to meet our shoppers' needs." – Wholesaler "As someone who has attended many trade shows over the years, the PLMA Show is an excellent opportunity to learn, network, and discover new products and services… It's a great way to stay up to date on industry developments and see what your competitors are doing." – Exhibitor
in the phenomenon, too. Store brands accounted for nearly 30% of all new dollar sales flowing into the U.S. retailing industry last year. Quality, innovation, and value are the fundamentals of why today's shoppers continue to trust and fill their carts with store brands. This robust industry offers a combination of not only what a family needs but what they want in products that are socially and environmentally aware and support their desire for an overall healthier lifestyle.
Manufacturers and retailers are listening to those consumers. In partnership, they introduce value brands consumers can rely on as well as exclusive product offerings as a differentiator in today's competitive retail market. This symbiotic phenomenon is key for the industry. Being able to easily pivot with changing consumer and product trends or surmount logistical challenges keeps the industry on the cutting edge of development and consistently provides retailers an assortment of products.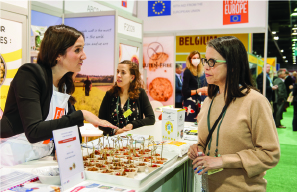 PLMA'S 2023 PRIVATE LABEL TRADE
Experience the Phenomenon
With over 1,500 exhibitors representing 2,500 booths and more than 5,000 visitors, PLMA's 2023 Annual Private Label Trade Show is at the center of the phenomenon. For more than 40 years, PLMA has provided supermarkets, supercenters, drug chains, wholesale clubs, dollar and specialty stores, mass merchandisers, importers and exporters and e-commerce retailers an exclusive venue to discover the latest food and non-food products, ingredients, flavors, fragrances, packaging and supplier trends in the private label industry.
Navigating the Show
With more than 4,500 member companies worldwide, PLMA is the only industry organization devoted entirely to promoting the interests of store brands. Through its year-round programs and publications, PLMA gives members and industry professionals the contacts and services they need to compete effectively in today's marketplace.
Show Location
PLMA's Annual 2023 Private Label Trade Show will be held at the Donald E. Stephens Convention Center, only 10 minutes from Chicago's O'Hare International Airport. Conveniently located within walking distance or short shuttle bus rides from major hotels, the convention center provides exhibitors with an easy-to-reach, efficient venue for trade shows.
Express Check-In
All visitors must pre-register for the show and will receive admission credentials in advance and can use Express Check-In upon arrival at the show. To begin the registration process, please complete the pre-registration link at www.plmaregistration.com.
Seminar Programs
To help show attendees get the latest industry trends, PLMA offers special seminars and speaker programs. This includes Sunday Seminars and Workshops, the Monday Keynote Breakfast and the Tuesday Retail Trends Breakfast. Consult the Official Program Guide or Online Show Navigator for this year's presentations.
Digital Media Updates
Visitors to the show can keep up with industry news and trends prior to the show and throughout the year by following PLMA's LinkedIn and Twitter posts as well as watching the streaming video program PLMALive! on plma.com. Daily, PLMALive! trade show highlights and briefings will be streaming on large screen monitors in key intersections of the Donald E. Stephens Convention Center.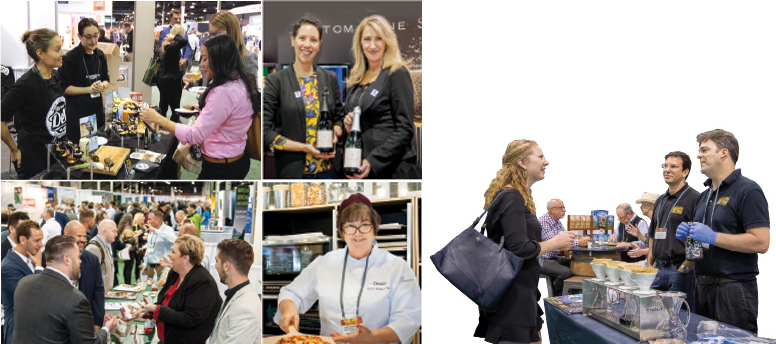 Trade Show Schedule
Sunday, November 12
Registration – 12pm – 7pm
Seminars and Workshops – 2pm – 4pm
Monday, November 13
Registration – 7:30am – 6pm
Keynote Breakfast – 8am – 9am
Show Floor Open – 9am – 6pm
Idea Supermarket® – 9am – 4pm
Tuesday, November 14
Registration – 7:30am – 3:30pm
Keynote Breakfast – 8am – 9am
Show Floor Open – 9am – 4pm
Idea Supermarket® – 9am – 3pm
Show Navigator
helps pre-registered visitors locate products and suppliers 30 days prior to the beginning of the show. Once the show starts, Show Navigator will become accessible on-site to all visitors through a dedicated WIFI network.
PLMA's Idea Supermarket®
is located off the main lobby and provides visitors with current store brands products and packaging from retailers around the globe.
New Product Expo
is located within the Idea Supermarket® and displays trending products submitted by exhibitors and is ideal for preparation before walking the show floor.
PLMA's Salute to Excellence Awards
showcase the latest product innovations from leading retailers as judged by an independent panel of consumers and experts in the industry.
PLMA'S 2023 PRIVATE LABEL TRADE SHOW NOV. 12-14 • CHICAGO
Presented by the Private Label Manufacturers Association
630 Third Avenue, New York, NY 10017 • Telephone: +1 212 972-3131 E-mail: visitors@plma.com • www.plma.com